The Bavarian smoking ban includes beer tents like the ones at Oktoberfest in Munich, the Bavarian capital.
So what happened during this years' festival in the city, (which happened to be the 200th anniversary of Oktoberfest)?
First of all, the local authorities announced that they would not enforce it this time. Official reason was that the administrative registrations of the tent owners had taken place before the decision on the ban. In fact, they wanted to postpone trouble for their staff. They might even have had tactical considerations like taking the peak off people's potential anger. Instead of making use of this freedom for the benefit of their customers, the tent owners decided to enforce the ban anyway. It was a sort of 'dry run' for them (although the term 'dry' might not be appropriate with regard to Oktoberfest). Their (alleged) enforcement mainly consisted of not serving beer to customers who were openly smoking (the "maximum penalty" for Oktoberfest visitors, as one landlord put it).
The results:
- Beer prices went up as a consequence of more expenditures for security staff in and outside the tents.
- Special germs were used on the floor inside some of the tents in order to counter the smell of sweat, toilets, leftovers of meals and drinks, and some less tasty stuff. All of that had largely been covered by tobacco odor in the past.
- There were a couple of conflicts, some even violent ones, between guests and staff about the ban.
- And, most importantly: adherence to the ban was, well, a matter of perspective. Some tents still smelt of smoke, cigarettes (on the tables) and butts (on the ground) were visible. In other tents you could detect people smoking clandestinely, hiding cigarettes under the tables (at least when staff was near). That rate of non-compliance increased during the evening and simultaneously with alcohol intake. Some celebrities were "caught" smoking inside. Other tent owners provided balconies and outdoor areas with umbrellas and heaters where people could smoke to their heart's content.
All in all, a 'dry run' that meant less smoking in indoor areas but nothing close to an anti-smokers' "smokefree" paradise. Oktoberfest is still an earthly place. Let's see how the situation will look like next year and how much fun the local enforcement officers will have. Time has to show whether Oktoberfest will remain to be the Oktoberfest as we know it, visitors of this year's festival might shrug their shoulders in resignation about this question.
Evidence about negative economic effects is unclear; that has to do with the adherence rate described above and the general presence of many international tourists.
Pictures from a similar, but smaller Volksfest in Nuremberg/Bavaria, a couple of weeks earlier than Oktoberfest show that things have changed because of the ban: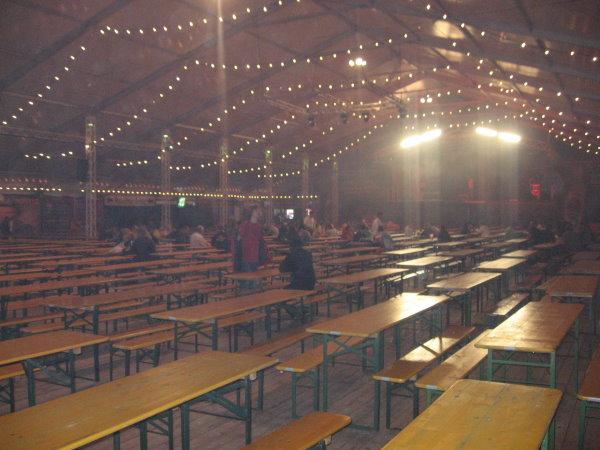 Sanitarized beer tent at 8pm (wow, what a party)
Outdoor patio with umbrellas and heaters (as you can judge by people's jackets, it was not really warm, but you could smoke)
Need we say more?